When shopping for suits – especially for those young lads buying their first ones – it's not uncommon to choose black. It seems like a wardrobe staple, and it surely is. For many people, they are an introduction to fine tailoring, a set of sartorial training wheels, and a solid item to wear for job interviews and relatives' weddings.
But if you think black suits are so simple, think again. And it actually gets a bad reputation. It comes with a few more rules than a navy or a gray suit, and it's not the most flattering color, despite its versatile reputation in the fashion world. If you're not wearing it right, you may look ridiculous in whatever setting you choose to wear it on.
What to Look for in a Black Suit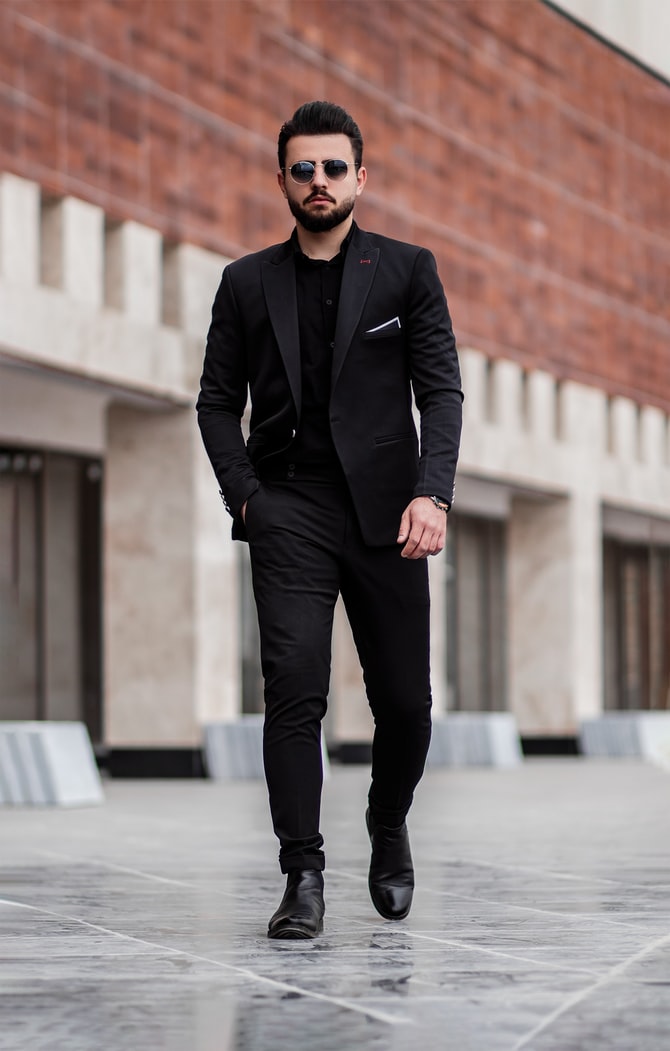 A poor-fitting black suit is one of the worst looks in menswear. Sometimes, instead of making you look sharp, it may make you look cheap, sloppy, and pitiful. If the fit is off, people will surely notice. An expertly tailored black suit commands attention.
Don't cut corners and invest properly because a black suit is something you will need time and time again, so you want something that will stand the test of time. Invest and pay attention to the construction, fit, and quality of fabric. There might be ready-to-wear black suits that fit you perfectly, but a made-to-measure suit is usually the best option, especially if you have more trouble finding the perfect fit. Choose wisely so your suit will look crisp for many more years.
Here are some things you may want to look for in a suit:
1. Fabric
When it comes to fabrics, you may want to keep it simple with medium-weight wool with a matte finish. Shiny-looking cloths, contrast stitching, or anything novelty can cheapen the look. The type of fabric also needs to have more substance. If the construction is too light, it can look too casual. If you have a fairer skin tone, black suits can have a harsh effect. If that's the case for you, opt for the textured fabric to soften the darkness, making it less saturated.
2. Fit
Have a black suit tailored to your measurements. A slim-fit suit is best, but don't go too skinny, whether in the jacket or trousers. The trousers must fit cleanly through the thighs and fall clean against the shoes, with a slight break at the front to slightly revealing the sock area. Make sure it has the perfect balance between slim and tight. The jacket must avoid collar gaps or chest breaks for a proper fit.  For this reason you might want to consider taylor made suits as well.
3. Jacket silhouette
The suit jacket is the center of your ensemble. To make it adaptable and versatile, choose a classic silhouette: something that is slim and structured, not too fitted, a single-button jacket with notched lapels and defined shoulders. Anything outside this classic realm heads into statement territory. Double-breasted suit jackets have also been revived by tailoring from the past few years. If you want some variety, you can choose this alternative in its most classic form or choose one with a more asymmetrical cut to stand out.
4. Shoulders
The shoulders must be fully or semi-roped for a clean and crisp look. Make sure the jacket falls clean off the shoulders and doesn't have any bite or sag.
5. Sleeves
The suit jacket's sleeves must allow some of the dress shirt to be seen for a sense of contrast.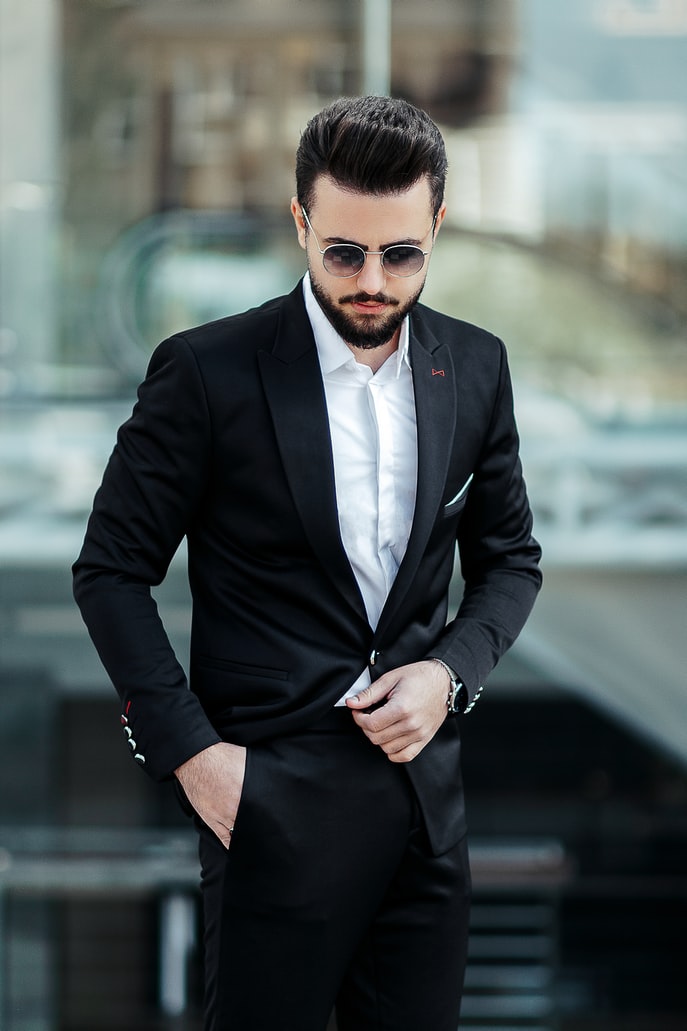 When to Wear a Black Suit
Knowing when and where to wear a black suit is something that a gentleman must master. If you're thinking strictly in the traditional sense, black suits are acceptable and almost always ideal for:
Formal occasions like galas and weddings
Funerals

Job interviews

Graduations

Cocktail parties in winter and fall
Beyond these set occasions, black suits can be too formal and give off a serious impression, especially in the workplace. Stick with gray, brown, or navy in the office.
If you are asked to wear formal or cocktail attire at any party, gathering, or occasion, black is an ideal choice, especially during colder months. In warmer seasons, lighter colors like gray and beige are better and more appropriate.
Colors of Shirt to Wear with a Black Suit
A white shirt with collar is the most obvious choice when looking for something to pair with a black suit. White is basic, traditional, and elegant at the same time.
Light-colored shirts are always a welcome pairing for black suits, as it makes a great background. A cream or pale grey shirt with a dark-colored tie gives a softer look than a bright white shirt. A range of pastels like light blue, pink, or even pale yellows and greens add to the variety.
Avoid pairing bold and bright colors or patterns with a black suit. If you want to wear a printed shirt, look for something muted and not too visible, whether micro stripes, checks, dots, or floral. The shirt must not be in competition with your black suit.
And speaking of shirts, the style you choose to wear depends on the dress code and your face shape. As a rule of thumb, choose a medium spread collar. It works for most people, and it looks good with or without a tie.
Accessory Tips for a Black Suit
1. Tie
Your neckwear of choice is crucial when wearing a black tie. Never wear a solid black tie with a black suit – you'll end up looking like a waiter or catering staff at the event you're going in. Instead, find something with a deep tone, like grey, silver, blue, burgundy, purple, or dark green. Go something with a micro pattern to avoid looking stuffy. Choose a silk tie with a little bit of sheen, rather than ties that are matte or knit, which is too casual. Use the four-in-hand knot for wearing your necktie.
2. Shoes
Always match your shoes to your suit. Black is the best option, but in more recent years, the rules loosened up a bit. Though brown is still frowned upon, an Oxford or Derby dress shoes in gray, navy, oxblood, or bottle green would be fitting. On the casual front, consider a pair of sneakers that are single in color, simple in style, clean, and well-kept.
3. Pocket square
Should you decide to wear a pocket square, match it to your tie and follow the same rules when it comes to colors, fabrics, or patterns. You can never go wrong with a presidential fold.
Ways to Wear a Black Suit
1. With a French cuff shirt
It's not every day that you get the chance to wear a formal French cuff shirt, so if you're dressing up in a black suit, it's the most recommended shirt partner. It can also allow you to wear the cufflinks you got as a gift.
2. With a white dress shirt
A white dress shirt is the classic shirt of choice to wear with a black suit. Black provides a high contrast to whatever it is against, which is why white works really well. For a timeless finish, you can add accessories like a simple silver tie bar and a thin presidential fold pocket square. If you choose a half-spread collar shirt, pair it with a traditional wider knot. If the occasion calls for it, you can swap your formal leather shoes for a pair of minimalist black sneakers.
3. All-black everything
You probably already know that all-black has a built-in slimming effect, but when done right, it can certainly make you look slick and expensive. But when you're going for an all-black ensemble, you have to make a subtle contrast through fabric finishes and textures. For instance, you can wear a wool suit with a glossy shirt or a velvet suit with a cotton dress shirt. The all-black look works better without a tie, but if you want to wear one, choose black.
Better yet, forgo the shirt and tie and wear a simple roll-neck or black tee instead. Fabrics like merino and cashmere can add some depth and make it a little less formal.
4. Suit separates
Suit separates may sound like an oxymoron, but they are actually a killer way to make tailoring more exciting and a little less boring. A black jacket paired with a lighter colored trouser feels much less formal, especially when worn with an open-necked shirt and loafers. Stick to blue, gray, and navy. Keep it not too close in color with the suit jacket, but not too contrasting either. Pairing it with jeans is a disaster unless it's black or dark grey denim.
5. Printed shirt
No, we're not talking about loud floral prints or Hawaiian styles here. Any printed shirt that you can pair with a suit must still be formal in style. A formal, printed shirt can perfectly complement a muted black suit. It gives the outfit a more casual appeal while still looking sharp and dapper. Usually, formal printed shirts have simple patterns like stripes, dots, checks, geometrics. To pair well with a black suit, it helps if the shirt has some flecks of black within so that the combination would be seamless.
6. Casual suit
Nowadays, there is always a time and a place to wear a black suit jacket with a T-shirt and sneakers. It's not an advisable look for a black-tie work event, but for less formal occasions, this look is a solid way of loosening things up and proving to people who's the boss when it comes to style.
Wearing a suit casually with T-shirt and sneakers has become an unspoken essential in the workplace. Opt for some cropped, slim-fit trousers to give your trainers a spotlight, and choose a T-shirt that is crisp and minimal. If you're wearing suit separates, switch your usual trousers for a drawstring waist to up the sporty vibe. Avoid trousers with a side stripe and keep other prints and embellishments monochrome.
If you find this post beneficial, we provide more useful tips such as how take your game to the next level with www.athleticinvesting.com.
The post Men's Guide to Wearing a Black Suit first appeared on thedailyvogue.com.