Gisele Bündchen, at least to fashionistas, requires no introduction. Gisele Bündchen is the highest-paid model on the planet, with lucrative earnings from more than 20 personal care and fashion brands she endorses, along with her fashion line. Her transformation from an awkward 14-year-old teen model to a full-fledged cross-platform business tycoon has frequently been the talk of the world of fashion.
Learn more about this famous Brazilian model by reading on.
Gisele Bündchen:
Who Is She?
Gisele Bündchen is a tall, leggy beauty with honey-colored hair and navy-blue eyes who rose to international fame after winning a record-breaking deal with the American lingerie retailer Victoria's Secret, which contributed to its growth from a small bra brand to a global lingerie powerhouse. Her appearances in international fashion magazines and editorials, and her regular catwalk appearances at fashion shows, made her the most sought-after supermodel. This first-ever model billionaire is regarded as Brazil's most popular fashion export and has been ranked on Forbes' rundown of "top-earning models" for eight years.
She is a goodwill ambassador for the UN Environment Programme and heads the non-profit Rainforest Alliance, which is involved in biodiversity sustainability and conservation. This Brazilian beauty has frequently made headlines for her partnerships with high-profile male celebrities.
Family and Childhood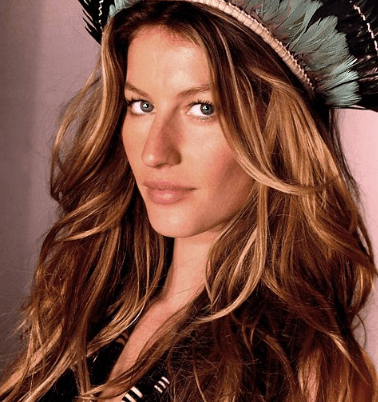 Bündchen is a German Brazilian, born in Horizontina, Rio Grande do Sul, to Valdir Bündchen, a writer and sociologist, and Vânia (née Nonnenmacher), a bank clerk pensioner. Walter Bündchen, h er grandfather, was the mayor of Horizontina at one time. Rafaela, Raquel, Gabriela, Graziela, and her fraternal twin, Patrcia, were her five sisters.
The family was devout Roman Catholics. Even though her parents are German and Bündchen learned the language in school, she no longer speaks it. Bündchen is fluent in Portuguese, Spanish, English, Italian, and a little French. She learned French from makeup artists, German from hairstylists, and English from Italian designers.
Bündchen aspired to be a volleyball player, but in 1993, her mother enrolled her and her two sisters (Gabriela and Patricia) in a modeling class to teach them better posture and confidence. After the course, the girls were rewarded with a trip to So Paulo, Curitiba, and Rio de Janeiro, where she was discovered at a shopping mall by Elite Model Management.
Bündchen finished second in the Elite Model Look national competition, then recognized as Look of the Year. Bündchen moved to So Paulo in 1995 to pursue a modeling career. She made her runway debut at the 1996 New York Fashion Week.
Husband and Personal Life
Bündchen, a former girlfriend of Leonardo DiCaprio, married Tom Brady, a professional football player, in 2009. Later that year, the couple reared their first child, a son Benjamin Rein Brady. In 2012, Bündchen gave birth to their second child, a daughter named Vivian.
Bündchen is an advocate for various causes and charities outside of modeling. She has a sandal line and donates some of the proceeds to the Gisele Bündchen Forest in Brazil. In the supermodel's hometown, Rio Grande do Sul, Bündchen launched Agua Limpa, a plant recovery and water conservation initiative, in 2008. 
Career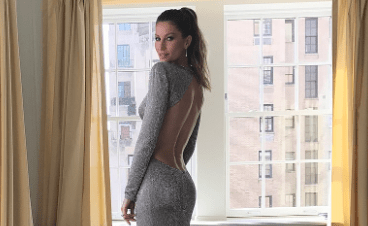 She visited New York in 1996 and made her runway debut at New York Fashion Week. Her big break in fashion came in 1997, when she walked the runway for Alexander McQueen's ready-to-wear show Spring 1998 "Rain" in London, which she dubbed "The Body."
She debuted on the cover of British Vogue in 1998 and quickly became the most sought-after model, putting an end to Kate Moss' "heroin chic" era, and reintroducing the "sexy model" era. She shot commercials for Valentino, Missoni, Ralph Lauren, Versace, Chloe, Dolce & Gabbana, and Gianfranco Ferre. She appeared on the cover of i-D in 1999, titled "A Girl Called Gisele," and on the cover of French Vogue, titled "The Return of the Sexy Model."
Her career took off after Rolling Stone named her "The Most Beautiful Girl in the World" in 2000, allowing her to open shows for Valentino, Christian Dior, Michael Kors, Dolce & Gabbana, and Marc Jacobs. She made her acting debut in Tim Story's 2004 film "Taxi," playing a bank robbery gang leader. She made a cameo appearance in the iconic fashion film "The Devil Wears Prada" in 2006.
In 2007, Bündchen ended her contract with Victoria's Secret, citing a desire to focus on other projects and dismissing rumors of payment disputes. She creates jelly sandals for the Brazilian shoemaker Grendene and has her line of flip-flops (Ipanema Gisele Bündchen), lingerie (Gisele Bündchen Intimates), and cosmetics (Sejaa Pure Skincare).
She has appeared on the covers and in editorials of some of the world's most prestigious fashion magazines, including Vogue, i-D, Sunday Times Style, Woman Arabia, GQ, Numero, Elle, Remix, Glamour, Marie Claire, Vanidades, and Vanity Fair. Chanel, H&M, Nivea, Carolina Herrera, Versace, David Yurman, Christian Dior, Dolce & Gabbana, HOPE, Givenchy, Salvatore Ferragamo, Louis Vuitton, and Ralph Lauren are among her many high-end fashion brands.
Career Highlights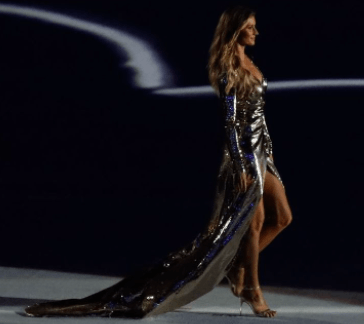 By the late 1990s, Bündchen had established herself as a sought-after model, appearing on the covers of Vogue and numerous other fashion magazines globally. She has worked for top designers such as Dolce & Gabbana.
Bündchen caused a stir in 2000 when she signed a lucrative $25 million contract with the popular lingerie company Victoria's Secret. The same year, Rolling Stone magazine named Bündchen "The Most Beautiful Girl in the World."
According to Forbes magazine, by 2004, Bündchen became the highest-paid model in the world. Around this time, she tried her hand at acting, appearing in "Taxi" alongside Jimmy Fallon and Queen Latifah. Bündchen fared better two years later, with a minor role in the fashion comedy-drama The Devil Wears Prada, starring Anne Hathaway and Meryl Streep.
Bündchen ended her partnership with Victoria's Secret in 2007, but she remained a popular model. She topped the Forbes list again, beating out established models like Heidi Klum.
Bündchen has occasionally found herself in the middle of controversy, such as in 2011 for a series of TV commercials in Brazil. Bündchen strutted her stuff in these lingerie commercials, which encouraged women to utilize their sex appeal to get out of various sticky situations. According to a government department devoted to women's issues, the campaign promotes the misleading stereotype of a woman as a sexual object.
In 2012, Bündchen made headlines once more when she appeared naked in Vogue Paris magazine, proving that she still is among the sexiest models today.
The post Profile of Brazilian Model Gisele Bündchen first appeared on thedailyvogue.com.