Getting dressed for the day is different from creating an OOTD look, and one of the best ways to take it up a notch is by being creative with your accessories.
Since ancient history, accessories have had a role in fashion, including layering necklaces, adding a pair of earrings, or wearing a belt to complete your outfit. But, aside from those, there's one more statement accessory that's most often overlooked- glasses. 
Traditionally, glasses are worn to improve eyesight. Still, you can wear them with clear lenses to turn them into a fashion accessory to help display your style and add life to your OOTD. If you do need vision correction, wearing eyeglasses may feel more obligatory instead of fashionable, but they don't need to be. If you don't require glasses to see, it might seem weird to try them on for the sake of fashion, but it's not.
So, if you're wondering how you're going to pull off fashion glasses, here are some reasons why you should try this trend.
Eyes Are The Windows to the Soul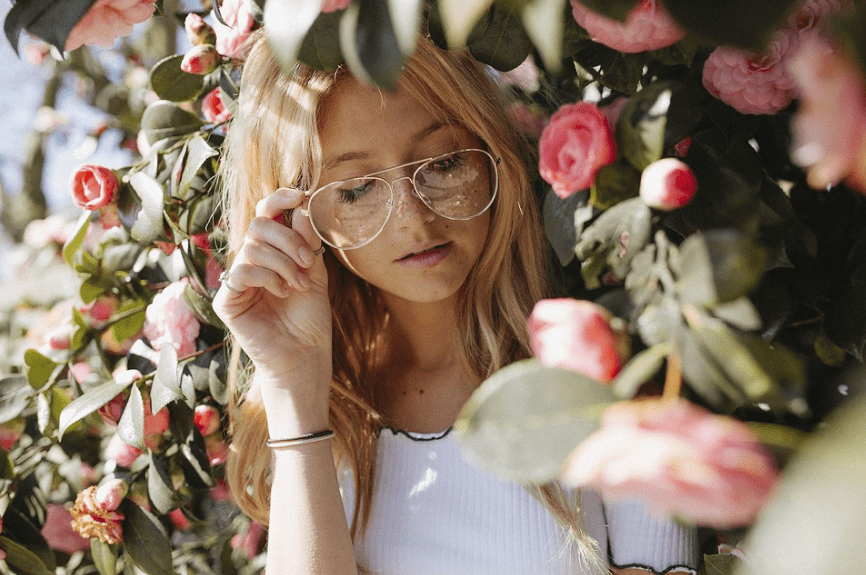 A couple of centuries later, Shakespeare's phrase is still valid. Eye contact plays a massive role in non-verbal communication. CNBC stated that "Researchers concluded that eye contact evokes positive feelings of trust and a deeper connection."  
That's why the eyes are essential parts of showing confidence or nailing the first impression when you walk into a room or communicate. Your eyes brighten your face, and a nice pair of eyeglasses can help accentuate your eyes. By fiddling around with different frames, you can bring attention to your eyes and establish the tone for your outfit. Patterned or bright frames can add flair and color to your ensemble. Or, for a more scholarly look, try wearing a pair of square, clear plastic or a pair with thin, round metal rims that will accentuate your facial features and eye color.
Function and Fashion
Today, a lot of us are spending the majority of our day with our faces behind a phone, TV screen, or computer, and that can leave you with dry eyes, headaches, trouble falling asleep, and other long-term consequences. To help with these, eyeglass manufacturers brought blue light glasses to the market to shield the eyes from extended screen time.
So, even when you might have a 20/20 vision, you can still don glasses for function and fashion. In addition, blue light glasses can further alleviate the stress on your eyes from having to work on a laptop constantly or check your phone. These glasses are easy to come by and pretty inexpensive in online shops. If you want to add more style, you can discover super stylish, high-quality frames from shops like Livhò.
Blue light glasses are helpful and will make you look chic at a Zoom meeting, but they'll also be charming enough to wear while running errands or during a social gathering. 
Highlights Your Best Features
When you wear any type of glasses, you want to make sure you pick the frames that suit your face. It's imperative to wear a design that's versatile, comfortable, and one that highlights your facial features. In regards to glasses, you have to think about the opposites. For example, you can use rectangular or square frames to contrast the natural curves of a round face, while rounder-shaped frames can soften a more angular face.
Some shapes of eyeglass frames can even make your face look younger. For example, the famous cat-eye style will visually elevate your face and fabricate the structure of high cheekbones. In addition, a pair of fashion frames in a bold color can brighten your skin tone and eyes and give off a youthful and fun vibe.
An Opportunity to Express Your Personality
Your personal style and outfits can, and should, switch often. A real fashionista has filled their wardrobe with pieces that can fit any occasion, season, or mood; otherwise, you might appear like a cartoon character whose closet is full of the same outfits. And that's the reason accessories are a staple in making even the most basic, everyday pieces feel unique and new.
However, we sometimes look at glasses as a necessity than an accessory. So we buy a pair or two, and don the same ones all the time. If you don't require glasses, you might not think they're viable accessories, but they surely can be, and if you're someone bigger than life, a loud pair of glasses can be just as complimentary as a bright scarf. For someone working a preppy, academic look, a pair of tortoise frames will create a mysterious yet approachable look. For the super fashion-forward, try wearing a pair of colored lenses where your eyes are still evident.
Similar to other add-on items, glasses come in tons of colors, materials, sizes, and shapes, and you can organize a collection that exhibits you wholly. With many alternatives, you can switch up your glasses depending on what look you're going for that day. Possessing a solid set of accessories such as shoes, jewelry scarves, and fashionable glasses, you can double the number of ways and times you wear your ensembles, continuing to dazzle those around you with the creative ideas you put in together.
The post Wearing Eyeglasses for Fashion first appeared on thedailyvogue.com.