Every bride surely wants to look beautiful on her wedding day. In addition to the wedding gown, hairstyle, and makeup, accessorizing with jewelry can make a real difference to the overall look of the bride. For it to stand out and look stunning, bridal jewelry does not have to be excessive or over the top. This is true, especially when the wedding dress is already extravagant on its own.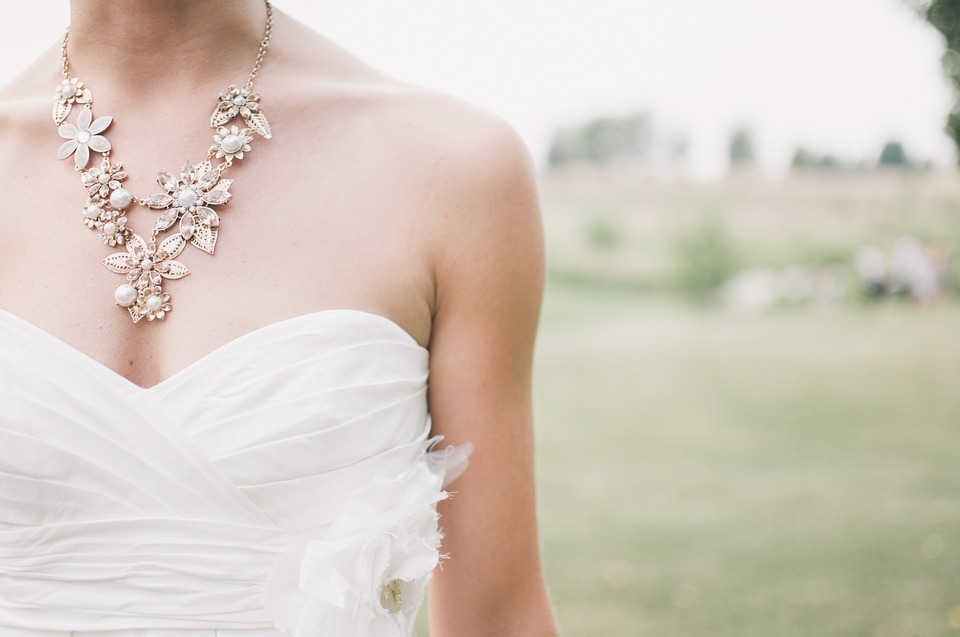 Jewelry pieces are very personal, most especially for a wedding. However, it can be quite challenging to find the perfect jewelry that will complement the rest of the wedding dress. If you are looking for the best jewelry for your upcoming wedding, we're here to help you. Today, we're giving you a list of the top choices for bridal jewelry.
How to Choose the Best Bridal Jewelry
If you need help in choosing jewelry for your wedding, here are a few tips we can give:
Do not overdo it.
When picking out your bridal jewelry, do not go overboard. It is indeed tempting to load up on accessories, but do not risk letting them outshine you. Always remember that "less is more." Therefore, it's better to stick with a few key pieces of jewelry instead of accessorizing your whole body.
Match the jewelry pieces to your wedding dress.
If you can't decide between silver and gold jewelry pieces, you should let your gown's color decide for it. If your wedding gown is white, you can go for platinum or silver pieces. If it is ivory, gold jewelry pieces will best enhance it. For champagne wedding gowns, gold jewelry pieces, and as well as burnished silver with rhinestones work well. And if your wedding gown is blush, you can opt for rose gold jewelry pieces.
Consider the neckline of your wedding gown.
The neckline of your wedding gown also plays a crucial role in choosing your bridal jewelry, especially your necklace. For example, if your dress has a strapless neckline, wearing a choker or shorter necklace can create height and direct all eyes to your smile. If your dress has a V-neck, you can try layering a choker and a pendant necklace. However, if you will be wearing a dress with halter or reverse halter, you need to focus on accessorizing your hair or wear a bracelet or cocktail ring.
Don't be overwhelmed.
When choosing bridal jewelry, try to focus on a piece that you absolutely love. If you're in doubt, you can wear simple pearl or diamond studs which are classic pieces. Also, feel free to mix and match different styles of jewelry pieces.
Be yourself.
This is the most important advice that we can give you. When choosing jewelry pieces for your wedding, they should be a reflection of who you are. If you are not comfortable with wearing large and dangling earrings, you can always wear studs. The important thing is that you're happy with your accessories and that you feel confident.
Top Bridal Jewelry Choices
Here are some of the best bridal jewelry pieces that we found which you might like:
Unicra Bride Silver Jewelry Set
This set comes with a wedding rhinestone necklace and silver bridal teardrop earrings. These jewelry pieces are made of crystals and alloy. The necklace has a circumference of 20.1 inches, which can fit most women. These are exquisite and fabulous bridal jewelry pieces that are crafted with excellent workmanship.
EVER FAITH Austrian Crystal Teardrop Jewelry Set
This bridal jewelry set comes with a V-shaped necklace with a pear-shaped drop made of crystals. It also has matching dangling earrings that will surely match any wedding gown. Wearing these beautiful jewelry pieces will make you look more elegant and glamorous on your wedding day.
BriLove Women's Bridal Jewelry Set
This bridal jewelry set includes a sparkling necklace, a bracelet, and a pair of beautiful earrings. Both of these have classic and elegant styles, which will make a timeless accessory for your wedding. The pieces are adorned with hearts and arrows, and as well as cut cubic zirconia. It is a simple yet elegant bridal jewelry set that you can have.
Udalyn Crystal Bridal Jewelry Set
This set includes a bridal necklace, a pair of earrings, and a shiny bracelet. The gems in this set include a rhinestone that has a fabulous design and solid construction. This will make your wedding attire look more classic and elegant. These jewelry pieces are a timeless accessory to any jewelry collection.
Mariell Platinum Plated Pear-Shaped Bridal Jewelry Set
This is a gorgeous wedding necklace and earrings set with gleaming pear-shaped teardrops. The jewelry pieces are plated in genuine silver rhodium platinum. They offer sophisticated styling, especially for weddings. These accessories are also beautifully packaged in a luxurious silver embossed signature gift box, making them ideal as bridal jewelry.
EVER FAITH Marquise CZ Simulated Pearl Bridal Jewelry Set
This is a beautiful cubic zirconia flower cluster wedding jewelry set. It has sparkly CZs that will make a timeless accessory to any jewelry collection. In addition to weddings, it can also be worn casually or with other formal attire. You can also give it as a gift to someone special.
Wordless Love Teardrop Pear Shape Wedding Jewelry Set
These jewelry pieces are made of rhodium-plated brass. They are lead and nickel-free, making them safe to wear even for those with sensitive skins. They also have a smoother texture that will protect your skin from rubbing. They are also lightweight, making them comfortable to wear. It is a great set of jewelry for brides.
These are some of the top choices for bridal jewelry. Always remember that when picking out jewelry pieces, always opt for something that you love and one that you're most comfortable wearing. We hope this post will help you find the perfect bridal jewelry that you can wear on your wedding day.
The post Top Choices for Bridal Jewelry first appeared on thedailyvogue.com.