Yves Saint Laurent is one of the most popular, established brands in fashion today. But do you ever wonder about the man behind the brand?
Yves Saint Laurent was described as many things during his lifetime – boy wonder, genius, and the Pied Piper of fashion – and a lot more since he passed away in 2008. Without a doubt, he's one of the greatest designers of the 20th century. Saint Laurent kept transforming in style, but each new one had an incredible impact on fashion. He developed his styles to accommodate changes during every period and approached his aesthetic from a different perspective by helping women find confidence by looking elegant and comfortable at the same time.
Learn about his life and how he changed fashion forever.
Early Life
Yves Henri Donat Matthieu Saint Laurent, referred to as Yves Saint Laurent or YSL, was born on August 1, 1936 in Oran, French Algeria to French parents Charles and Lucienne Andrée Mathieu-Saint-Laurent. He grew up in a villa by the Mediterranean with his two younger sisters, Brigitte and Michelle. Though his family was well-off, his childhood wasn't easy. He was often bullied at school for appearing to be homosexual, so he was a nervous child who got sick often. However, he found solace in making paper dolls. By his early teens, he was designing dresses for his sisters and mothers.
After completing secondary education, he left for Paris to pursue a career in designing women's fashions and theatrical costumes. He attended fashion school for a while, and his designs quickly gained notice. When a French Vogue magazine-executive showed his sketches to Christian Dior, he was hired immediately as Dior's assistant. He was only 17 years old at the time.
Fashion Career
As Dior's protégé, Saint Laurent was named the head of the House of Dior after his mentor's sudden death in 1957. He was 21 at the time. His spring 1958 collection almost saved the business from financial ruin.
Saint Laurent designed a simple, flaring line of his first collection for Dior, called the trapeze line, and it catapulted him into international stardom. After the A-line silhouette and the "little girl" look, he introduced more sophisticated, longer skirts. In 1959, he introduced drastically shortened skirts. In 1960, he introduced a chic beatnik look of turtlenecks and black leather jackets edged with fur.
That same year, Saint Laurent was called back to his home country of Algeria to fight for independence. The stress of hazing led him to be admitted to a military hospital, and while he was there, he received news that he had been fired from Dior and was replaced by designer Marc Bohan. As a result, he sued Dior for breach of contract and won. He collected £48,000, which presented him with an opportunity to open his own fashion house. With the rise of pop culture and a public yearning for fresh, original designs, his timing couldn't have been better. He opened his fashion house in 1962 with his partner and lover, Pierre Berge.
Saint Laurent emerged as one of the most influential designers in Paris, and by 1980 he became a true fashion icon. He became the first designer to have a retrospective of his work at the Metropolitan Museum of Art in New York City. The Yves Saint Laurent fashion house flourished as a money-making venture under the direction of Berge, who continued to manage the company even though he and Saint Laurent had broken up in 1986. He sold the ready-to-wear business to Gucci for about $1 billion in 1999.
Saint Laurent's designs became popular in the fashion world. Actresses and models gushed over his creations, and he outfitted women in smoking jackets and blazers. He introduced the pea coat to the runway, as well as the sheer blouse and jumpsuit.
In 2002, Saint Laurent participated in his final show and retired for good. Five years later, he was made a grand officer of the Legion of Honor by French President Nicolas Sarkozy.
During the last years of his career, Saint Laurent struggled. He became reclusive and fought addictions to cocaine and alcohol. Some people in the fashion world complained that his work has grown stale.
After a brief illness, the designer passed away in Paris on June 1, 2008.
In 2017, a museum dedicated to his work opened in his former haute couture house in Paris opened a museum, and another in a building by architecture firm Studio KO in Marrakech, Morocco.
Yves Saint Laurent's Impact on Fashion
Yves Saint Laurent made important strides as a fashion designer, being a pioneer and a trendsetter for many designs and ideas that has stood the test of time. Here are some of his biggest feats that changed the fashion world forever:
He changed the way women dressed.
Before launching his own fashion house, Yves Saint Laurent worked for Christian Dior, who hired him on the spot in 1955 after seeing his drawings. When Dior unexpectedly died of a heart attack, the then 21-year-old Saint Laurent became the brand's creative director. His debut collection, the spring 1958's Trapeze line, was a success on the runway. It offered a more fluid silhouette under which the body disappeared, replacing the cinched waist popularized by Dior.
During his years at Dior, he tried to bring a youthful air to the fashion world. He was inspired by the clothes people were wearing on the street and tried to simplify it, challenging the fashion world by ignoring its conventions.
He introduced androgynous fashion.
In the fashion world, Yves Saint Laurent was the first designer to dress women in men's clothing. When he debuted Le Smoking (a menswear-inspired tuxedo tailored for women) in 1966, it became an instant classic for women who want to look equally glamorous and strong. But during that time, it was still controversial for women to wear trousers in public. Giving women the same clothes as men makes it a symbol of rebellion, androgyny, glamour, and a challenge to the status quo.
As Pierre Berge said in 2008, "Gabrielle Chanel gave women freedom, but Yves Saint Laurent gave them power." It radicalized eveningwear and transformed the way women dress. Early adopters of Le Smoking included Liza Minnelli, Catherine Deneuve, Bianca Jagger, Nan Kempner, Betty Catroux, and Lauren Bacall.
He brought art and fashion together.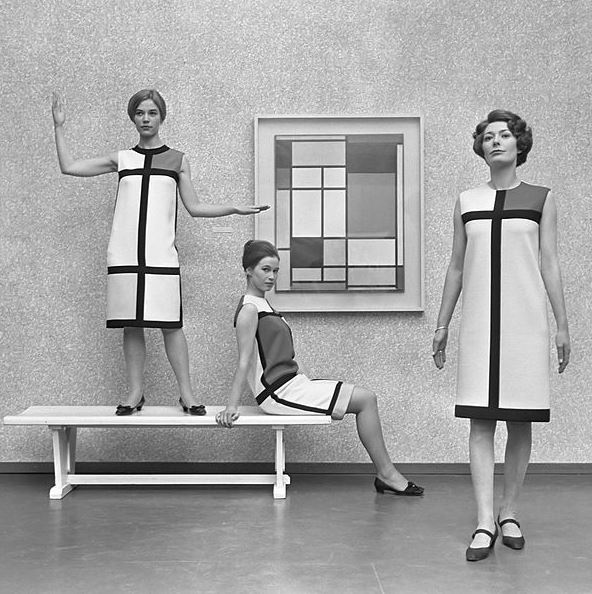 Yves Saint Laurent was one of the first designers to make art and fashion collide on the runway. Today, the love affair between the art and fashion worlds is very common. His collections feature fashion inspired by Pablo Picasso, Vincent Van Gogh, Andy Warhol, Henri Matisse, Georges Braque, Mondrian, and other artists. The most popular pieces of his art collection included a series of dresses inspired by Piet Mondrian's work. Those items were debuted in his Autumn-Winter 1965 collection, and it included six classic 60s-style shift dresses that pay homage to the Dutch artist's modernist, grid-like paintings.
He brought diversity to fashion.
The fashion industry's problem with the race still remains, but Saint Laurent was among the first designers to challenge the status quo. He started casting diverse models in his shows during the 60s and 70s. Models like Iman, Katoucha Niane, Rebecca Ayoko, and Dalma Callado were among his muses.
When Saint Laurent died, Naomi Campbell said in her tribute that "My first Vogue cover ever was because of this man." Thanks to Saint Laurent, she became the first black model on the cover of Vogue Paris, and people of color had opportunities to model for prestigious magazines.
He starred in his own campaigns.
Today, it's usual to see designers star in their own campaigns or even be featured in another label's campaign. But in 1971, it wasn't the case. An ever-constant trendsetter, Saint Laurent broke new ground in fragrance advertising when he posed in the nude for the advertisement of YSL Pour Homme. Famously photographed by Jeanloup Sieff, the black-and-white ad was hardly published anywhere at the time, though it would come to resonate with the gay community in the later years.
He freed the nipple.
The movement to fight to #freethenipple on present-day social media reveals the trailblazing nature of Saint Laurent's taste for sheer designs throughout his career. In the era of the miniskirt, Saint Laurent joined the second wave of feminism by having his models go braless under sheer organza blouses, transparent tops, and couture gowns with a feathered trim.
Much like today's campaign, the decision was less about pleasing the onlooker and more about asserting equality between the sexes. Saint Laurent did not just want women to free their bodies but also to make them feel powerful while doing it. It was a risky move, but the trend entered the mainstream fashion world, and other designers followed him.
He created high fashion ready-to-wear.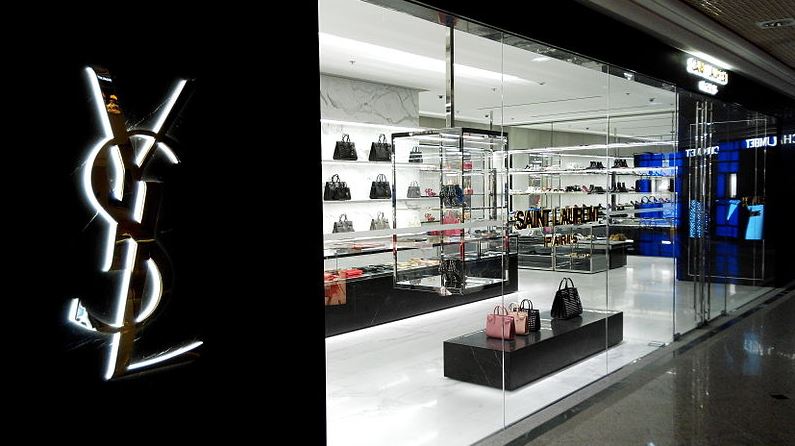 Saint Laurent made high fashion ready-to-wear mainstream. In 1966, Saint Laurent became the first couturier to successfully launch a ready-to-wear boutique under his name. The Saint Laurent Rive Gauche boutique, which opened in Paris, offered more affordable items than his haute couture designs, but the quality is excellent. Saint Laurent used the boutique as a testing ground for his new ideas, creating wholly separate and different collections. It was a fundamental departure from the grand and gilded world of haute couture salons.
The boutique was an immediate success, as some customers were willing to wait up to three hours just to buy items. Within a matter of weeks, Rive Gauche became the new sanctum of Paris youth culture.
After seeing huge success in Paris, Saint Laurent opened stores in New York in 1968 and in London in 1969. Today, there are YSL stores on every continent.
The post Who was Yves Saint Laurent and What was His Impact on Fashion? first appeared on thedailyvogue.com.