In fashion, an accessory is an item that contributes to the attire of an individual secondarily. Accessories are often chosen to complement and complete the outfit of the wearer. Also, they express or convey the personality of an individual. Accessories come in different shapes, sizes, colors, shades, materials, etc. In fashion, the term accessory came into use in the 20th century. It was the time when fashion was evolving decade by decade.
An accessory can be thought of as anything other than clothes. It is said that people look at your attire, shoes and stare at your watch or any other fashion accessory to judge you in the first 3 seconds you meet. 3 seconds is not a lot of time to judge someone's personality, so if you want to make the best first impression, then you must be working on your accessories. Various fashionable accessories can be used for the favorable impression that you want.
Ultimate Guide to Fashion Accessories
A woman makes her outfit even better by using accessories. The importance of accessories cannot be summed up better than this. This is true for men and women. The role of accessories in our daily or formal attire is to enhance the effect of the clothes you are wearing. An accessory cannot be successful nor flop.
It depends on one's sense of style, context, and fashion style. You cannot be wearing shorts with bracelets to a formal event nor you can be wearing a suit to a concert or casual party.
Anklet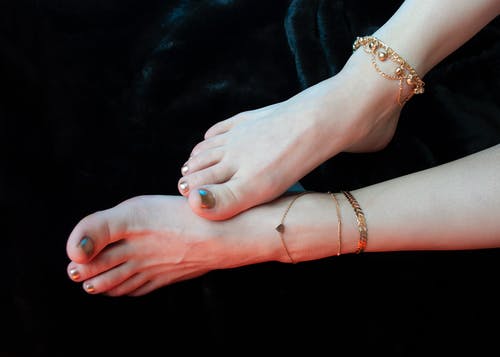 An anklet, also known as ankle string, ankle bracelet, ankle chain, etc. is an accessory worn by women around the ankle. It has been popular for 8,000 years in South Asia. Since, predynastic times, Egyptian women have been wearing anklets. Anklets became popular and fashionable from the 1930s to the late 20th century. Nowadays, they are used by women as a piece of fashion jewelry.
They are made of gold, silver, and some other less precious metals such as nylon, plastic, leather, etc. Some women like to wear the ankle strap loose to make it hang below the ankle. On the other hand, some women wear it tighter around the ankle. It depends on the sense of style and comfort. And speaking of, men are also open to wearing anklets nowadays. Check out Puravida Bracelets online shop to see the trendiest anklets for men.
Various types of anklets that can be worn as an additional accessory under a casual or formal dress are as follows:
| | |
| --- | --- |
| Gold Anklets | Silver Anklets |
| Beaded Anklets | Charm Anklets |
| Bangle Anklets | Wrap Anklets |
| Leather Anklets | Friendship Anklets |
| Toe Ring Anklets | Gemstone Anklets |
| Shell Anklets | Elastic Anklets |
| Jeweled Anklets | Double Strand Anklets |
| Cuff Anklets | Tennis Anklets |
| Link Anklets | Coin Anklets |
| Rhinestone Anklets | Chunky Anklets |
Belts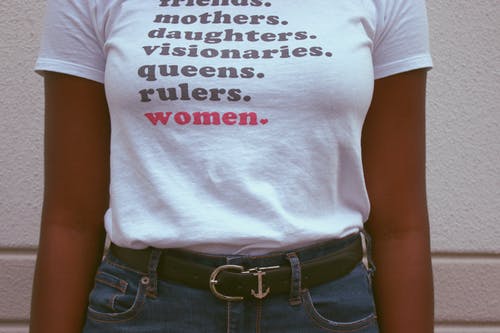 Once upon a time, some men and women used to wear belts in the Roman Empire. The belt, as an accessory finds its uses since Roman Empire. Later on, it was associated only with the military. Also, men in high positions used to wear belts. A belt is an accessory that is worn around the waist.
By wearing a belt, you can tighten the waistband according to your waist measurement. It holds and keeps the garment in the right place. Now the belts come in different sizes, shapes, and designs. The pants have a compulsory belt loop. While wearing pants, jeans, or any other pants, the belt as an accessory, transforms the look of jeans, pants, skirt, or dress.
20 different types of belts are designed for different outfits. Also, the function of belts varies from one outfit to another.
| | |
| --- | --- |
| Buckle Belt | Horseshoe Buckle Belt |
| Suspender Belt | Cummerbund |
| Military Belt | Metal Belt |
| Hip Belt | Yoke Belt |
| Cinch Belt | Lace-Up Belt |
| Obi Belt | Twist Belt |
| Braided Belt | Garter Belt |
| D Ring Belt | Skinny Knot Belt |
| Bow Belt | Peplum Belt |
| Corset Style Belt | Sash Belt |
Bangles and Bracelets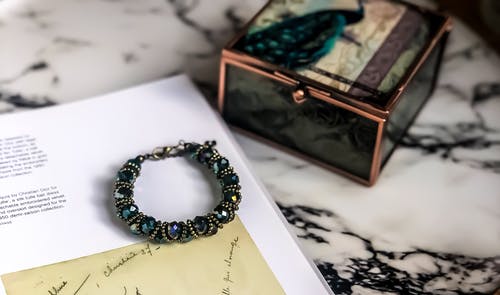 Bangles and bracelets one of the fashion accessories are worn around the wrist. The difference between a bangle and a bracelet is that the bangles are more rigid than a bracelet. The bangles come in only a circular shape. On the other hand, the bracelet is a band of flexible material that you can wear on the wrist, just like bangles. The bracelets are having ornaments on the wristband.
Bangles are usually made of gold or silver. In Southeaster Asia, it is a tradition to wear bangles, made of glass, plastic, good, or silver at various events. On the other hand, a bracelet can be made of gold, silver, leather, or even paper. The bracelets can be used as friendship bands or love bands. Hence, there are different ways of wearing a bracelet for different purposes.
| | |
| --- | --- |
| Bar Bracelet | Beaded Bracelet |
| Bio Magnetic Bracelet | Birthstone Bracelet |
| Boho Bracelet | Braided Bracelet |
| Metal Chain Bracelet | Charm Bracelet |
| Cord Bracelet | Crystal Bracelet |
| Cuff Bracelet | Filigree Bracelet |
| Friendship Bracelet | Leather Cuff Bracelet |
| Letter or Name Bracelet | Link Chain Bracelet |
| Love, Hope, Happiness Bracelet | Metal Bracesuyashlet |
| Message/Meaningful Bracelet | Memory Wire Bracelet |
| Open Bangle Bracelet | Paracord Bracelet |
| Pearl Bracelet | Prayer Bracelet |
| Rubber Loom Bracelet | Rocker Bracelet |
| Sailor Knot Bracelet | Stack/Multi Bracelet |
| Slider Bracelet | Tennis Bracelet |
| Watch Bracelet | Woven Bracelet |
| Yoga | |
Brooches and Pins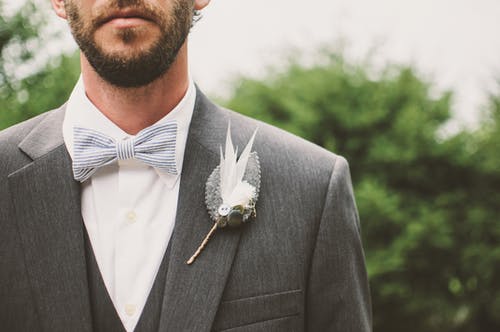 A brooch is a piece of decorative jewelry used as an accessory to adhere to the clothing and often to hold it. The brooch is usually made of metal but some are made from gold or silver. This accessory is decorated with gemstones or enamel. The first known brooch date from the Bronze Age. Since the fashion of brooches has changed over the past few years, they are still an important chronological indicator.
Brooches and pins are traditionally used for closures, and for holding the folds of the fabric together. The pins when decorated with different materials or designs become a brooch. It is usually worn at formal events. It is pinned on the breast pockets or neckline of formal dresses. They are worn by both men and women.
The different types of brooches are:
Bar Brooch
Pendant Brooch
Portrait Brooch
Foliate Brooch
Enamel Brooch
Cuff Links and Studs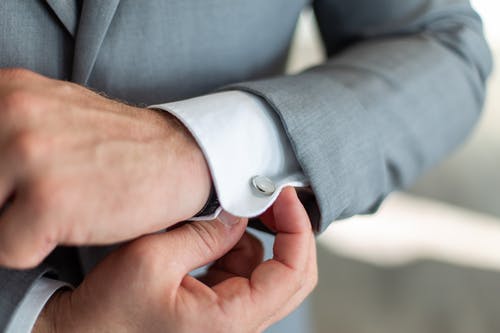 Cufflinks are pieces of jewelry used to secure the cuffs of dress shirts. They are made from a variety of materials such as stone, glass, metal, leather, precious metal, or a combination of these materials. The attachment of the cufflinks is usually carried out by reverses or toggles, depending on the design of the front part that can be folded into a position. The other variants of cufflinks come with stiff curved tails or chains.
The front section of the cufflinks comes with a variety of decorations such as inlays, gemstones, inset material, enamel. They are designed in two or three-dimensional shapes. Cufflinks are used with dress shirts that have buttoned cuffs on both sides but there are no buttons.
The cuffs can be of single length or double-length. They can be worn either kissing with both edges or in a barrel style. In barrel-style, one edge points outwards and the other inwards making the hem layered. In the United States, the barrel style was popularized in the 19th century by a famous artist and clown named Dan Rice. However, kissing cuffs are preferred in the current time.
The cufflinks are usually worn with formal wear, especially tuxedo shirts. The main 5 types of cufflinks are as follows:
Bullet Back Cufflinks
Whale Back Cufflinks
Fixed Back Cufflinks
Ball Return Cufflinks
Chain Style Cufflinks
Earrings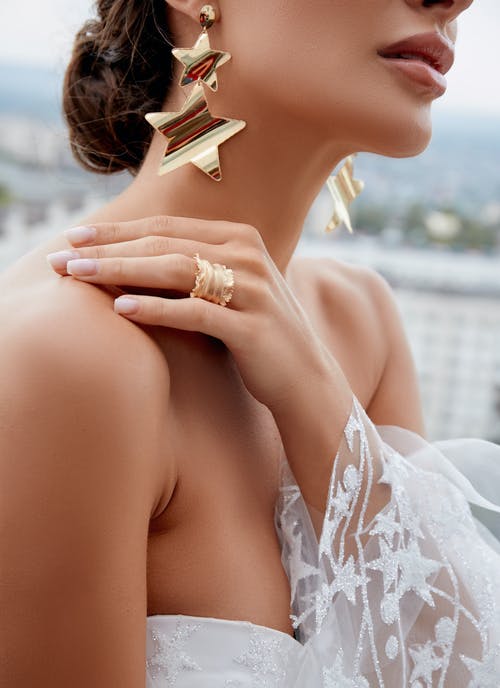 An earring is a piece of jewelry dubbed as an accessory for both men and women but especially for women. It is attached to the ear by a piercing in the earlobe and some other external parts of the ear. Men who love to wear an earring of their category can wear them using clip-on earrings instead of getting their ears pierced. The earrings have been worn by ancient people of different civilizations.
It has been of cultural significance in the history of different civilizations. The locations of the piercing other than earlobe are industrial, rook, helix/cartilage, tragus, conch, snug, daith, anti-tragus. Piercing other than the earlobe is complex and takes a longer period to heal such as cartilage piercing.
The components of the earrings can be made from different types of materials such as metal, glass, plastic, precious stone, wood, beads, bone, etc. The designs of the earrings range from small loops and studs to large plates and hanging items. The size of the earrings is limited by the physical ability of the earlobe to hold the earring without tearing.
However, if you wear the heavy earring for longer periods, then it can lead to the earlobe stretching and even piercing. The different types of earrings are diving into three categories like Classic, Modern, and Alternative.
Classic Types of Earrings

Diamond Stud Earrings

Hoop Earrings

Drop Earrings

Clip-On Earrings

Pearl Earrings

Chandelier Earrings

Teardrop Earrings

Modern Types of Earrings

Cluster Earrings

Crawler Earrings

Jacket Earrings

Ear Cuff Earrings

Streamlined Hoops

Cartilage Earrings

Threader Earrings

Huggie Earrings

Tassel Earrings

Ball Earrings

Mismatched Earrings

Hypoallergenic Earrings

Alternative Types of Earrings

Barbell Earrings

Plug Earrings

Ear Spike Earrings

Circular Earrings

Bajoran Earrings
Glasses
Eyeglasses are also known as glasses or spectacles are vision eyewear. They are made of hard plastic lenses mounted in a frame. The frame helps to hold the lens in front of the wearer. It helps to bridge it over the nose and the articulated arms rest on the ears. They are commonly used for vision correction. Most people use them as reading glasses and myopia glasses. Also, without specialized lenses, they are used for cosmetic purposes.
Besides its functional use, it serves as an accessory to decorate the face such are known as sunglasses. Apart from protecting your eyes from the sun, you can look great wearing sunglasses with any of the outfits. If you go to a store, you will find thousands of different types of frames in color, design, shape, size, etc. Glasses as something that covers your face especially the eyes area have become an accessory that provides more style sense.
Talking about the frames that add more style to your outfit, there are different types of eyeglasses frames.
Round Frame
Oval Frame
Boston Model Frame
Square Frame
Wellington Model Frame
Flat Top Frame
Rimless Frame
Pentagon Frame
Cat's Eye Frame
Horn-Rimmed Frame
Handbags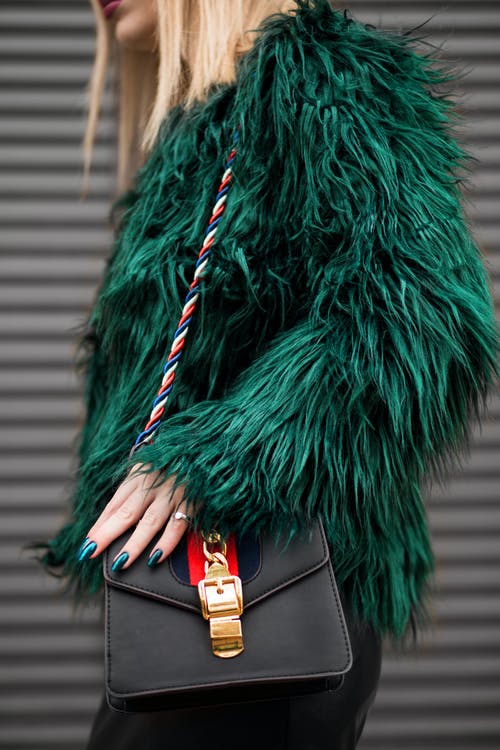 The term handbag originally refers to a small bag for storing coins or currency notes. In many English-speaking countries, it is referred to as a small bag of money. A handbag is a larger accessory that is utilized to hold other objects than money. The term handbag came into use at the beginning of the 20th century. At that time, it was referred to as hand luggage for men.
Later on, the women's handbags got bigger and complex and became an accessory for women. In the mid-20th century, it was dubbed as a pocketbook for women's handbags in the United States. Nowadays, if you ask a woman to choose her foremost important accessory, her handbag will be on the top of the list.
A competitive woman or aesthetic one will not stick to one design of the handbag. In the wardrobe, you will find more handbags than her other accessories. It is because of 30 types of handbags with different features and functionalities.
| | |
| --- | --- |
| Hand Bag | Hobo Bag |
| Tote Bag | Duffle Bag |
| Messenger Bag | Backpack |
| Satchel | Doctor's Bag |
| Laptop Bag | Bucket Bag |
| Bowler Bag | Wristlet |
| Pouch | Clutch |
| Saddle Bag | Beach Bag |
| Shoulder Bag | Minaudiere |
| Shopper/Grocery Bag | Drawstring Bag |
| Make Up Bag | Fold Over Bag |
| Phone Bag | Camera Case Bag |
| Baguette Bag | Barrel Bag |
| Basket Bag | Fanny Pack |
| Kelly Bag | Lunch Bag |
Hats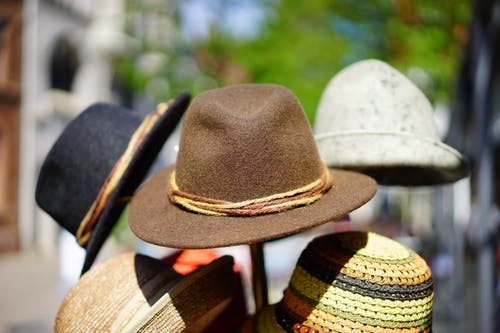 A hat is a head covering that is worn for several reasons out of which protection against the weather conditions is the top one. Other ceremonial reasons for wearing a hat are religious reasons, graduation from college, and most importantly as a fashion accessory. In the past, hats were a symbol of social status. In the military, the use of hats denotes the branch of service, nationality, regiment, and rank.
The police officers generally wear distinctive hats such as brimmed hats or peaked caps same as worn by the Royal Canadian Mounted Police. The history of hats dates back to 3,000 BC. Hats were a symbol of tradition or culture such as cowboy hats or turbans worn by Sikhs. Nowadays, hats have become a fashion accessory that people wear to get compliments on their outfits.
The different types of hats for men and women come in various styles, designs, shapes, and sizes. Some of the hats are unisex that can be worn by both men and women.
Hats For Men

Balaclava

Boater Hat

Boonie Hat

Campaign Hat

Conical Hat

Cowboy Hat

The Deerstalker

Fez

Garrison Cap

Kepi Hat

Pakul Hat

Pork Pie Hat

Tam Cap

Toque Hat/Chef Hat

Trilby Hat

Tyrolean Hat

Ushanka Hat

The Yarmulke

Baseball Cap

Bobble Hat

Bowler Hat

Chupalla Hat

Coonskin Hat

Custodian Hat

Fedora

Ivy Cap

Homburg Hat

Panama Hat

Pith Helmet

Peaked Hat

Top Hat

Trapper Hat

Turban

The Umbrella Hat

Whoopee Cap

Hats for Women

Beret

The Breton Cap

Cartwheel Hat

Cocktail Hat

Fascinator Hat

Half Hat

Papakha Hat

Peach Basket Hat

Sailor Hat

Straw Hat

Vagabond Hat

Bonnet

Bucket Hat

Cloche Hat

Derby Hat

Floppy Hat

Kettle Brim Hat

Newsboy Hat

Pillbox Hat

The Sou'Wester Hat

Sun Hat
Hair Accessories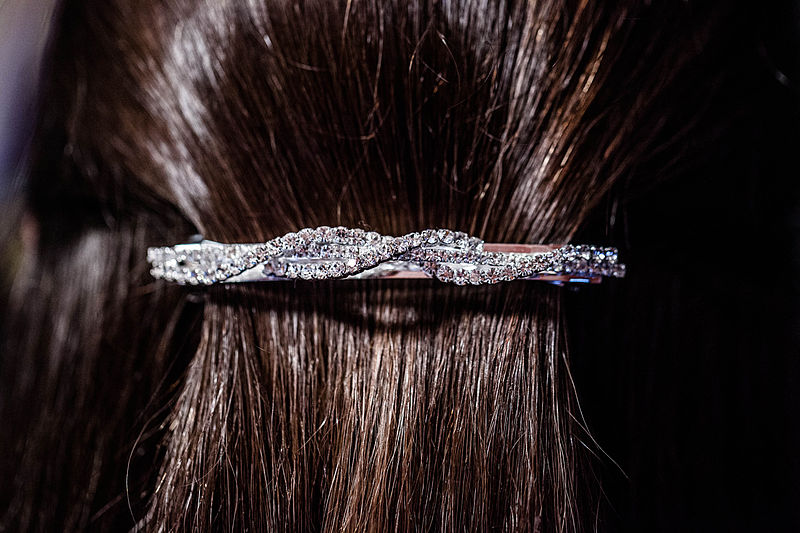 A barrette also known as a hair clip or hair clasp is used for holding hair in one place. They are made from plastic or metal with some featuring and decorative fabric. In one type of barrette, the clasp secures the barrette in one place. The clasp opens when the two metal pieces of one side are pressed together. They are used in a bun, French twists, or ponytail hairstyles.
Many kinds of hair clips were invented in the 20th century. The elongated hair clip invented by Marnie Bjornson in 1972 was a simple bendy clip. It worked by snapping the clip from a concave to a convex position. Various types of hair accessories come in different shapes, sizes, designs, fabrics, metals, decorations, etc. are as follows:
| | |
| --- | --- |
| Alligator Clip | Banana Clips |
| Barrettes/French Barrette | Bendy or Snap Clip/Tic Tac Clips |
| Bobby Pin | Bun Wrap |
| Claw Clips/ Hair Clutcher Clip | Chain Halo |
| Flat Hair Pins/Hair Slides | Hair Bands |
| Hair Elastic/Ponytail Holder/Hair Ties | Hair Puff Maker/Bump It |
| Hair Piece | Hair Combs |
| Hair Stick/Stick Barrette | Hair Wraps/Bandeau Headband |
| Ponytail Barrette | Scrunchies |
| Sweatbands | Rubber Bands |
| Tiara | Flower Tiara |
| Hairs Scarves | Veils |
Necklaces and Pendants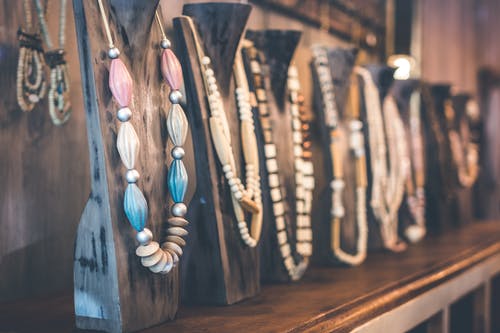 A necklace is a piece of jewelry that is worn around the neck. They might have been one of the earliest types of accessories worn by humans. They are used for the religious, ceremonial, funeral, or magical purposes. They are a symbol of status and wealth because of the precious stones and metals they are made of. The main component of the necklace is the chain, band, or cord that is used to wrap around the neck.
A necklace, also known as a pendant but a type of necklace is made of gold, silver, or platinum. They are having additional accessories inserted or hanging in the necklace itself. Talking about precious and semi-precious materials of necklace or pendant are pearls, diamonds, garnets, emeralds, rubies, and sapphires.
Necklaces can be short or long and can be paired with lockets and pendants. It can be a simple chain with an alone pendant or combined with beads or pearls. They enhance the body and face of men and women. Various types of necklaces can be worn on special occasions or on daily basis such as going to work or visiting a friend.
| | |
| --- | --- |
| Opera Necklace | Multi-String Necklace |
| Thread Necklace | Bib Necklace |
| Choker Necklace | Collar Necklace |
| Princess Necklace | Matinee Necklace |
| Plastron Necklace | Lariat Necklace |
| Festoon Necklace | Graduated Necklace |
| Lavaliere Necklace | Locket Necklace |
| Negligee Necklace | Pendant Necklace |
| Riviere Necklace | Sautoir Necklace |
| Charm Necklace | Chain Necklace |
| Torque Necklace | Rope Necklace |
| Statement Necklace | Twisted Necklace |
Perfumes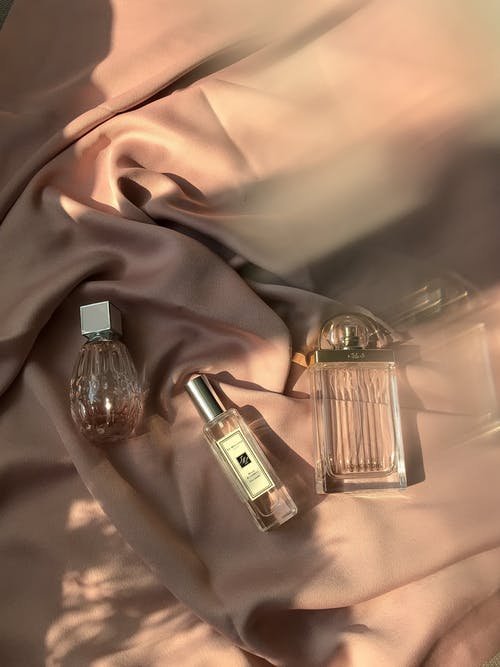 Word perfume comes from the French word Parfum. It is a mixture of fragrant aroma compounds or essential oils, solvents, and fixatives. It is usually in liquid form in a glass bottle. It gives the human body, food, objects, animals, and other objects a pleasant scent. Ancient texts and archaeological diggings show the use of perfumes. It means it has been used in the early civilizations.
Modern perfumery began in the late 19th century with the commercial synthesis of aroma mixtures such as coumarin and vanillin. Perfumes are the final touch to get compliments about yourself and your outfit. Eau de Toilette, body spray, cologne are the alternative names of perfumes. They mask your body's odor and make you attractive, scent-wise.
There are different brands of perfumes and colognes that you can try to have a pleasant scent on different occasions. Also, you can wear perfume daily so that you smell good. The different scents of the different perfumes depending on the composition and ingredients. Some people wear different perfumes for different times of the day but some stick to the one because they love it.
The famous brands of perfumes that might make it impossible for you to live without them are as follows:
| | |
| --- | --- |
| Calvin Klein | Nautica |
| Gianni Versace | MONTBLANC |
| Guess | Dolce & Gabbana |
| Vera Wang | Swiss Guard |
| Jean-Paul Gaultier | Sarah Jessica Parker |
Fashion Accessories – Reinforces Your Attire
If you want to get compliments from your friends, colleagues, or family for wearing an elegant dress, then you must be working on the accessories that will reinforce your attire. Fashion accessories have been found in early civilizations. They were the symbol of status and wealth. Since the fashion industry got a boom and evolved over the past few decades, people have been following the sense of style or fashion.
The iconic movie stars played an important role in promoting fashion and fashion accessories. As a result, the accessories became the second wear. For example, if you are meeting someone for the first time, then just in 3-seconds rule, you will get to know the personality of that person. Your attire depicts your personality, whether if you are a gentleman or a casual guy. On the other hand, you will know if a girl you are meeting is a classy lady or casual girl who likes it simple.
The post Ultimate Guide to Fashion Accessories first appeared on thedailyvogue.com.